FIT Project is a community of like-minded people working together to create a healthier and more active lifestyle. Our mission is to help our members gain both physical strength and mental toughness to apply to their everyday life. By utilizing the most updated equipment and industry standards, we deliver effective workouts to keep our members free from injury or burnout. Our coaches will not only receive continued training but also provide exceptional service to our members, keeping them motivated and appreciated. FIT Project is not only a great place to work out, but the culture is that of a family who celebrates your health for life.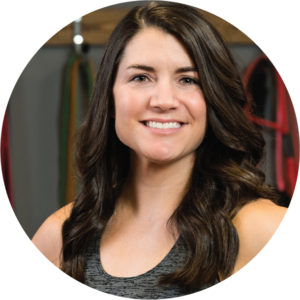 Kristine Gaspari-Ziffra
Founder/Coach
Kristine has been working in the fitness industry for over 7 years. She has experience working with individuals of all fitness levels and truly loves helping people. As a former high school and collegiate athlete turned Ironman triathlete, she knows the meaning of hard work and that you can do anything you set your mind to. Her passion for training is the catalyst for encouraging clients to not only improve and get stronger, but also be the best version of themselves.
University of Illinois, BS Kinesiology
– ACE Certified Personal Training
– NASM Performance Enhancement Specialist
– Level 1 Precision Nutrition Coach
– Pre & Post Natal Corrective Exercise Specialist
– Triathlons/Lifting Weights/Yoga
– Spending time with family/friends
– Shopping
– Going to Cubs games
– Traveling
– Cooking/Going out to eat!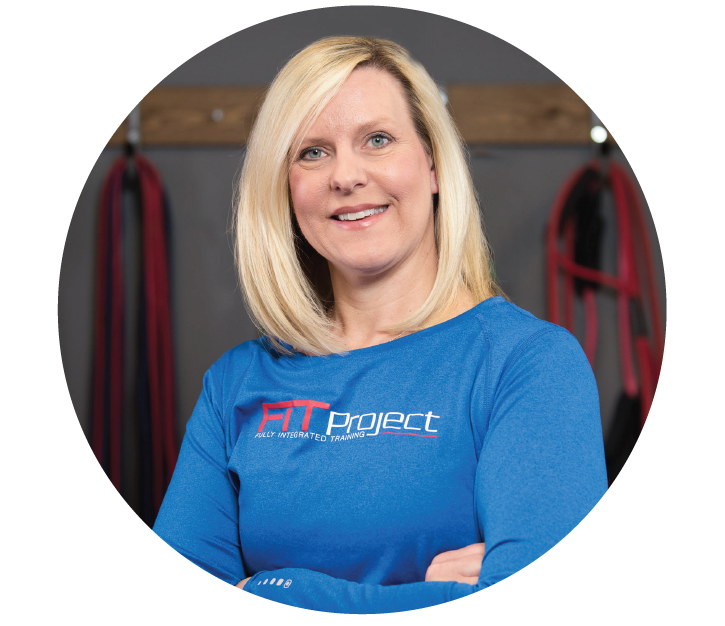 Laura Westney
Coach
As a former ballerina, Laura has an understanding of hard work, dedication and discipline. She is very passionate about helping her clients achieve their fitness goals. Laura has been married to her husband Tom for 19 years and they have three beautiful children. She spends most of her time supporting them with their activities and being the best mother and role model she can be. Being a busy mom of three, Laura understands her clients struggles in maintaining consistency with workouts and encourages them by sharing her personal experiences.
San Jose State University, BA Dance
– NASM Certified Personal Trainer
– Traveling
– Skiing/Hiking
– Going for bike rides
– Yoga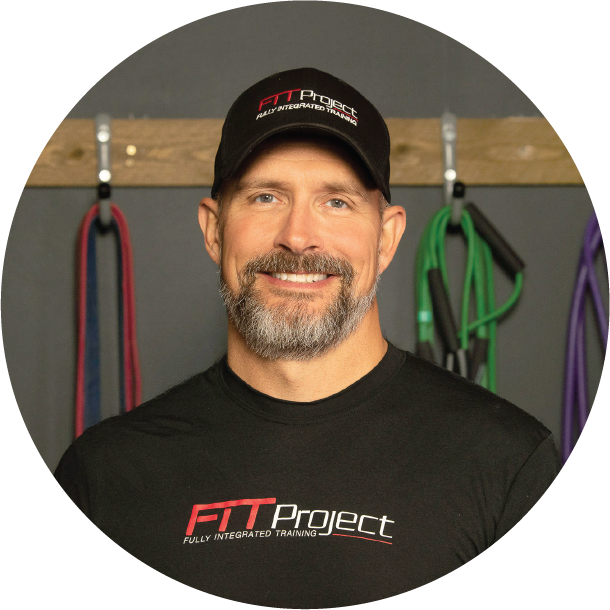 Russ Franceschina
Cycle Instructor
Russel has been an active runner and triathlete since 2006. Russ and his wife Dawn have led multiple marathon training teams through a local non-profit organization. Russ never shies away from hard work and physical play, welcoming most challenges. He has played hockey since childhood and prefers solid competition to push him to greater levels. Russ enjoys encouraging others to the finish line as much as he enjoys crossing it himself.
 – Illinois Institute of Technology, Bachelor of Architecture
– Certified Spin Instructor
– Any outdoor activity
–  Traveling/ exploring new places
– Woodworking
– Peanut butter and dark chocolate
– Gardening
– Fire pits
Dawn Franceschina
Cycle Instructor, Coach
Despite not being involved in sports as a child, Dawn now pursues an active lifestyle including being an active runner, triathlete, and gardener. She is motivated by achieving a goal that requires commitment and discipline to achieve, and loves seeing others push themselves towards their goals as well. She has a passion for making spin class fun, with an obsession for making high energy playlists!
– Bachelors in Physical Therapy from Northern Illinois University,
– Doctorate in Physical Therapy from Boston University 
– Certified Spin Instructor
– Being active
– Running
– Swimming
– Gardening
– Beekeeping
– Cooking
– Canning!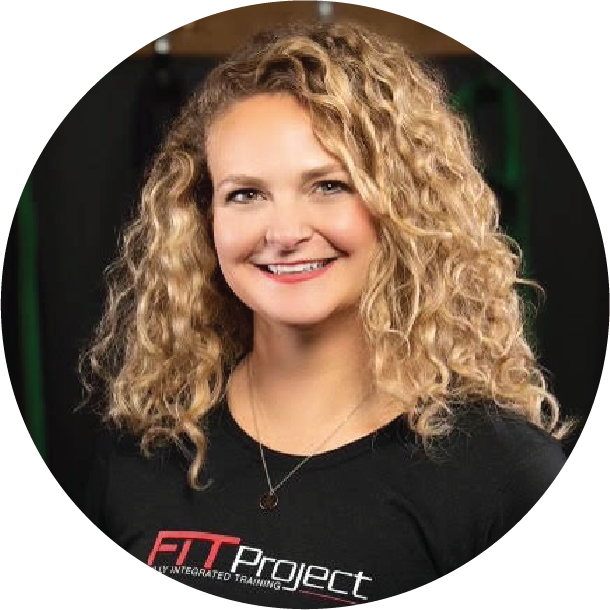 Brooke Dudley
Coach
Exercise has always been a constant in Brooke's life while moving around to different military installations, following her husband Jared who is in the Reserves. It isn't only beneficial health wise but has also been very helpful in becoming part of a community, while encouraging the fitness lifestyle and meeting new people.
Marshall University-Regents Bachelor of Arts degree
– Currently working on her NASM Certified Personal Trainer Certification
-Lifting heavy weights
-Reading
-Taking care of my two children 
-Dating my husband! 
-Binge watching Greys Anatomy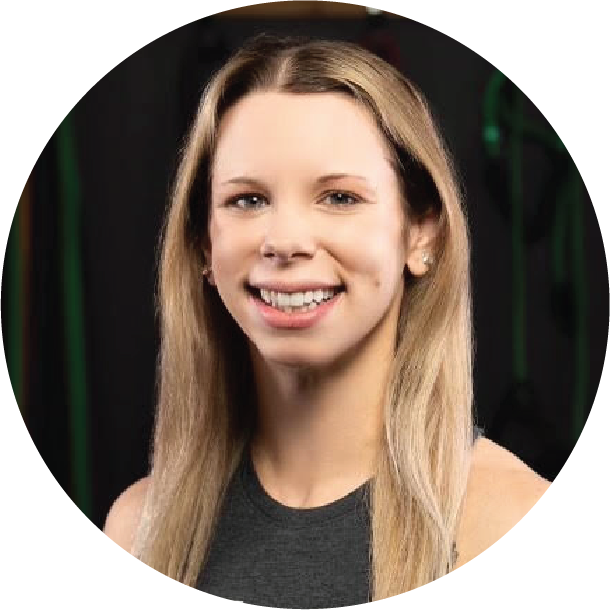 Kris Callahan
Coach
Kris has always led an active lifestyle, whether that was cheerleading, gymnastics or dance. Her experience as dance choreographer gives her a great understanding of what hard work and dedication can do. Kris is very passionate about helping her clients get a better understanding of themselves in order to set achievable goals. Her fitness story is very relatable to most and she speaks from experience to her clients & lead by example. While her time is mostly spent running her Culver's restaurant (#girlboss), Kris always sets enough time aside for fitness. She likes to spend her time off with her fur babies and attending live music shows.
– Currently enrolled in NCSF personal trainer certification program
-Lifting heavy weights
-yoga
-running
-food enthusiast
-live music
-dancing
-my pups and kitty
Linda Dein
Yoga Instructor
After spending many years practicing yoga, in 2017 Linda decided to take the leap and enrolled in an Ashtanga based 200 hour yoga teacher training. She has been certified to teach Hatha, Vinyasa Flow and Yin styles of yoga. In order to continue her yoga education she is currently enrolled in a 300 hour teacher training. Her belief that yoga is for everybody and the benefits can not only be felt on your mat but in every activity you participate in
– Ashtanga based 200 hour yoga teacher training
– 300 hour teacher training (currently enrolled)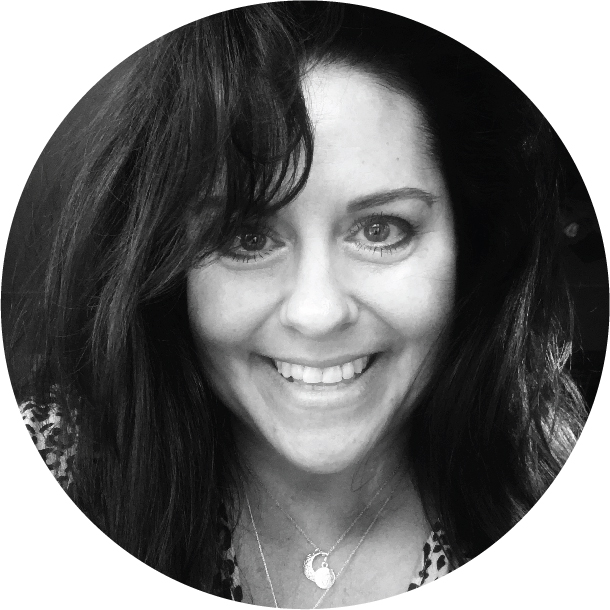 Michelle Enders
Massage Therapist
A veteran in the spa industry since 2001, she is also a blessed mother of three incredible sons. Michelle lives each day to love, nurture and support them in their life endeavors. She approaches her career with the same energy, passion and ethics. Her practice is exclusively Glymed Plus + Skin Care. Her regular attendance of advanced skincare and massage therapy education classes, strives to set her spa apart by staying on the cutting edge of products and services. She works very hard and will always go that extra mile for all who walk through her spa door.